Marvel's Spider-Man 2's massive open world map expands way beyond Manhattan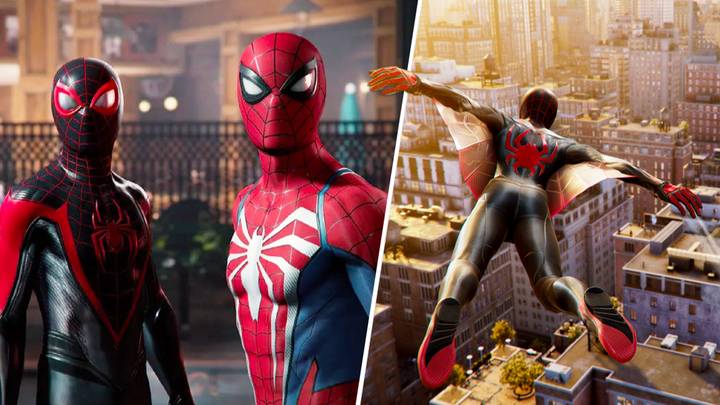 Featured Image Credit: Sony/Insomniac Games
Marvel's Spider-Man 2's massive open world map expands way beyond the limits of Manhattan.
Marvel's Spider-Man 2 not only looked visually stunning, but it was also performing at a super-slick framerate. In it, we were also introduced to Insomniac's version of Kraven the Hunter as well Dr.Curt Conors mutant Lizard form.
Peter Parker also had something new up his sleeve, none other than his Symbiote skin granting him new powers, strength and abilities. However, as fans of Spidey will know, harnessesing the Symbiote comes at a great cost and it seems that Miles Morales is growing concerned with the welfare of his friend.
The original game released in 2018 is set in Manhatten, New York and while we will be returning to Manhatten once more in the sequel, we're going to get so much more. No doubt, this is a direct benefit of Marvel's Spider-Man 2 ditching PS4 and launching on PS5 only.
Marvel's Spider-Man 2 details:

• New locations; Brooklyn, Queens, East River and more
• Improved textures, lighting, particles and more
• Peter can now parry; some attacks can't be dodged, must be parried
• Big focus on the Black Symbiote Suit; "we're giving it the story it… pic.twitter.com/VusgW0pXRG

— Okami Games (@Okami13_) May 25, 2023
During the cinematic trailer that introduced Kraven the Hunter, we got a glimpse of the map that features in the sequel. As reported by essentiallysports.com (via Okami13), not only will it include the Manhattan Island, but also a second Roosevent Island, featuring Queens, East River and more.
At this time, Marvel's Spider-Man 2 does not have a set release date other than 'fall 2023', so it's perhaps likely to launch anytime from September to October this year on PlayStation 5.
If you're yet to play the original game on PS5 or PS4, you can pick up Marvel's Spider-Man as well as Marvel's Spider-Man: Miles Morales as standalone purchases or as a bundle. What's more, Miles Morales is currently included on PS Plus, which is always a nice bonus.