PlayStation drops stunning Ghostbusters trailer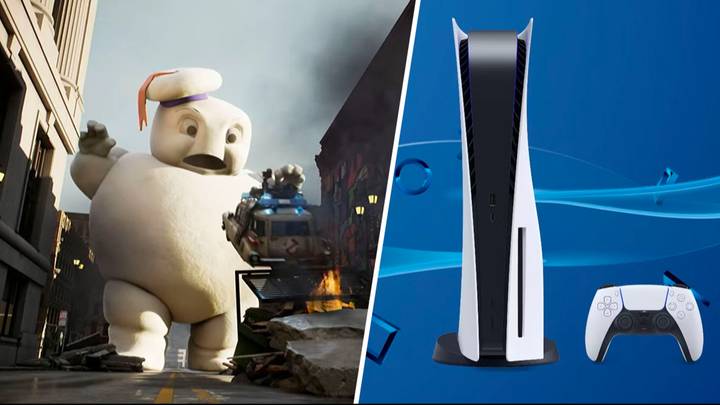 Featured Image Credit: Sony/Epic Games
PlayStation has shown off a glorious short film depicting Ghostbusters in Unreal Engine 5, and we're hoping it'll become a full game.
The current generation of consoles is continuously pushing the boundaries of graphical fidelity in games, and with the help of Unreal Engine 5, some spectacular tech demos have given us a glimpse of what the future could hold for major releases.
Check out the Unreal Engine 5 demo below!
PlayStation made it very clear with a new tech demo that showcased the iconic Ghostbusters vehicle, The Ectomobile/Ecto-1, going head-to-head with the dangerous, yet adorable Stay Puft Marshmallow Man from the films.
The Ecto-1 is caught in traffic as the Marshmallow Man stomps through the city, gleefully destroying everything in his path. The classic Ghostbusters car then starts its siren and pursues the threat, launching itself off a ramp and into Stay Puft's chest, causing him to explode into a gooey marshmallow puddle.
The short film was apparently a collaboration between PlayStation Studios, Epic Games, Pixomondo and Ghost Corps, with the graphics made to look like it was a PlayStation 5 game.
Real-time visual effect technology was used to put it together, with the aim of creating a photorealistic effect, similar to The Matrix Awakens tech demo, which makes sense since Epic Games assisted with that as well.
Unfortunately, this doesn't mean a PS5 Ghostbusters game is officially in the works, as it was purely a look at what could be, rather than what's currently in development. That being said, we're really hoping it leads to a AAA title in the Ghostbusters universe.
Ghostbusters fans will just have to keep their fingers crossed and hope a new game with similar graphics is in the pipeline.