Jaskier Is Like The Bo Burnham Of The Witcher World, Says Actor
Featured Image Credit: The Witcher, Inside / Credit: Netflix
Jaskier (or Dandelion, if you're the literary type) from Netflix's The Witcher is a bard of the people. The traveling troubadour crafted one of the most popular songs of 2019 in 'Toss A Coin To Your Witcher', and his cheeky, boyish charm countered Geralt of Rivia's gruff mannerisms perfectly in the first season of the show.
The man behind the lute in real life, Joey Batey, is hardly a novice when it comes to music himself. One half of the lyrical alt-folk band The Amazing Devil, Batey is a multi-instrumentalist and singer as well as an actor, and even had a stint as a comedian. We sat down with Batey to discuss season two of The Witcher, Jaskier's role in it, and some of the musical inspirations behind The Continent's most famous bard.
For full disclosure, we have seen the first six episodes of Netflix's The Witcher Season 2, but this interview is spoiler free.
GAMINGbible: Jaskier has more of a serious role this time around. And it's a role that differs quite a lot from the books, too. How do you feel about the direction of the character?
Joey Batey: I am really, really appreciative of Lauren's (Schmidt Hissrich, The Witcher's showrunner) writing. When she first sent the scripts over, we had lots of chats about trying to find the more philosophical side to Jaskier, perhaps a darker side. Perhaps we can see the scholar, and we get to see the man who has lived and travelled this Continent. I wanted to leave a bit more of that boyishness behind while still maintaining a lot of the joyful optimism that he's known for, and see what it's like when he's standing on his own two feet without his Witcher best friend next to him. So going into season two meant that we got to really dig in deeper - and we have a lot more time, a lot more space around these characters to get to know them. And we get to see them not just through dialogue, but through their action and, at times, inaction. There's a bravery to him now - he still has his survival instincts, he's still self-preserving, but he is starting to take risks and make morally good choices.
GB: Dandelion, in the Witcher books, has that boyishness about him, but it feels like the Jaskier of the show is definitely going down a different route. Do you think that's fair to say?
JB: He is an artist and an empath and is responding to the world around him. If the world gets darker, he's going to get darker, his job isn't to cheer people up. His job is to tell stories and, as an artist, hold up a mirror to the society and hopefully try and change it for the better. So yes, it is a departure from the books, but the inherent (author Andrzej) Sapkowski spirit is still in him. In the books, Jaskier is a lot more of a listener. Right at the top of Blood of Elves, for example, he's in a scene, but doesn't say anything. Everyone's talking about the state of The Continent, and he just listens. This is what I'm really keen to explore with the character - he is an observer. He watches and takes in the information so that he can transform it into his art and his songs. And yeah, there is a lot more of that watching, listening and waiting. Because that's a lot of what artists do.
GB: It's interesting that you pick up on the storyline of Blood of Elves, because one of the things I wanted to ask you was if there are any storylines in the books that you particularly like? That would really translate well to the series? For instance, I really liked his whole time in Toussaint…
JB: That's a wonderful sequence. Yeah, there are so many moments and the books are incredibly dense and full of so much information. It is kind of like reading a painting sometimes, because it feels like this wealth of information that might not necessarily translate to [the television] medium. That's kind of Lauren's skill - she's able to take some of these plotlines and also beef up others. We don't get to see much of Yennefer for like three quarters of a book (namely Baptism of Fire), she's a jade statue. But we want to see (Yennefer's actress) Anya [Chalotra] kicking ass and taking names, because that's what she does and she's amazing at it. Lauren does deviate from the texts, and I know that for some fans that won't be their favourite thing. But as someone who's involved in the show, I applaud it. And I applaud her ambition, and her ability to kind of read the lay of the land and go, "Well, what do we want to make the show about? Is it really dragons and elves and swords? Or do we want to take things that are actually important in our world now?" And hopefully, in some small, quiet way, help people and do some good work.
GB: So we do have a new song in this series, 'Burn, Butcher, Burn'. Can you tell us a little bit about that? Maybe what it's about in the show?
JB: Absolutely. Joe Trapanese (composer on season two) and I wrote that song together. One of the big things that I wanted to do when it came to season two, was try and find some musical development. We started with sort of the poppy end of the spectrum [with 'Toss A Coin To Your Witcher'] and I wanted to start to bring in other influences. As the best musical artists do - you know, Bowie wouldn't be Bowie if he didn't keep changing - and so that's sort of where we started. We wrote it over the course of the pandemic, explored lots of different versions of it and settled on this darker, sadder song. For the first time we get to see Jaskier actually singing about himself. I mean, some of it's about Yennefer, some of it's about him; it's about what happens when you take away the huge macro stuff - the wars and the turmoil - and then bring it into this microcosm of these friendships that are all falling apart, because this world is falling apart. So that song may not be everybody's ringtone, but I think it serves the character better, and it drives the narrative forward in a really more fervent way, I think.
GB: Did you feel any kind of pressure of, "Oh, we've got to make another big hit"?
JB: No, I actually didn't. That was the first thing I said to Joe, I said: "We are not going to try and capture lightning in a bottle again." I want to just continue this musical journey. I think if anyone sets out to write a hit, it usually isn't. Because you're overthinking it, and you're not really focusing on what you want to say and the stories you want to tell. So that was a big decision we made even before we started writing.
GB: And on that same tone, do you get asked to sing 'Toss A Coin To Your Witcher' all the time in the street?
JB: I don't get asked, but I get a lot of people sing it at me, and I don't sing it back. I think I just say "For copyright purposes…" and then run! No, I don't get asked, but I do love how much everyone loves that song. You know, it's a testament to Joe and his songwriting that everyone's still humming it two years later. So like yeah, it's very joyous to see the fan reaction to it.
GB: You've mentioned before how if there was a modern version of a bard like Jaskier, it would be someone like the American comedian Bo Burnham, and I wondered if you could elaborate on that a little bit more. What kind of messages do you think Jaskier would be spreading if he was around today, and who might his contemporaries be?
JB: So Jaskier started with - I took a lot of what Andy Samberg does. Which is that sort of boyish excitement and everything. And that improvisational tone and enjoying his own jokes and that infectious sort of energy. By the time we get to season two, this coincided with Bo Burnham's release [of the Netflix special Inside]. He released that after I'd actually wrapped, but I love a lot of his work and I love his satire and his bravery, and he's a comedian that is very unafraid. I'm a huge fan of comedy - I used to do it many years ago - and I love the kinds of comedians that come along and say, "Yes, I can." I can make the dumb jokes but also, you are going to be leaving going "Oh, I think that was more intelligent than I am." Which happens to me quite a lot.
His latest release - I've not watched it since because it broke me. It's amazing, but it broke me. And I think that that's what the modern-day bards would be - these kinds of multi-hyphenates that are exploring all kinds of different worlds like, I am in awe of the people who can do that; who are challenging themselves and challenging the notion of genre and art. It's one of those amazing dichotomies, where you go, "Well, you're a stand up comedian, so you can't be an artist," and Bo Burnham went, "Who says I can't do both or can't be both at the same time?" And I think that's where a lot of the music and a lot of the humour and darkness of Jaskier comes in with season two. He's starting to take the mantle of artist with a capital A, with a lot more respect. He's no longer the PR manager.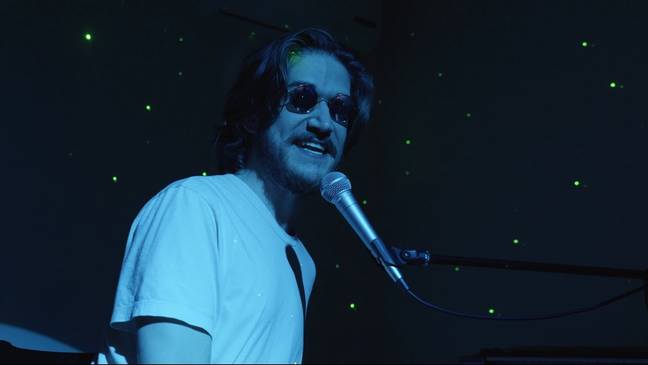 GB: You've said before that you don't have social media, so you haven't heard a lot of the 'Toss A Coin' covers, but there was a death metal one that you really liked. Do you listen to a lot of death metal?
JB: I listen to everything. I think gone are the days when you can say that you were, like, exclusively a metal head. Everyone listens to everything right now because we've got all the resources to do it. So you know, any morning I'll be listening to Slipknot and then I'll skip the track, and it will go on to Chopin's Nocturnes and then I'll skip and it will be the Into The Spider-Verse soundtrack. What I love about music is that you can find things that feed your soul in any given moment. But yeah, I will pop on a bit of I Prevail if I'm working out.
GB: Has any of that kind of found its way into how you've portrayed Jaskier? Any songs particularly where you're like, "This is something I'm listening to, and this is just gonna be part of the character now"?
JB: Yeah, a little. I write playlists for Jaskier every time I play him, and change the playlists throughout the shoot depending on the scenes and depending on what he's up to and what he's doing. Because he does hear the world musically, I even tried to make it so that he speaks almost musically - he really enjoys the musicality of his own voice. But the first song that I played myself when I decided to take the role was 'Common People' by Pulp. Because it embodied everything about him. Because at the start of season one, he's penniless and he's shoving bread down his pants to get by. By the end of season two, there was an awful lot of Ólafur Arnalds, who's a Scandinavian composer.
I think it all just depends entirely on the scene that's playing. You can get exploring songs that you haven't listened to in a very, very long time. I mean, my music with The Amazing Devil is massively influenced by folk. Laura Marling and The Oh Hellos live rent free in my head at any given moment. Laura Marling's trajectory and how she's changed throughout the years is almost bard-like. She's becoming more and more fearless and unafraid of creating the music that she wants to make, and I'm in awe of her. So I would have to say, I think probably she's the through line with Jaskier. My calm-down album after playing Jask when I hit the hotel room at night is Once I Was An Eagle, which is her fourth album, because it just settles me.
GB: I think it would be fair to say Jaskier is the protagonist of his own story, maybe less so in this series than last, but would you be up for a Jaskier spin-off? How would that look to you?
JB: I'm just happy to be involved in the show from the off, and I think to a certain extent, so is Jaskier. Jaskier is just kind of happy to be there most of the time. He is the kind of person who invites other people's stories rather than kind of particularly setting off on his own. I think if anything happened, it would be a sort of Better Call Saul situation. Let's wait until we get to the end of The Witcher and then discuss it. I'll talk to you in like five years!
Netflix's The Witcher Season Two will premiere, you guessed it, on Netflix on December 17th, 2021. We also spoke to Freya Allan, who plays Ciri in the series, about what it was like on set with Henry Cavill, as well as the rigorous training regimes she had to go through to embody the young Witcher in training.