Cyberpunk Edgerunners shows the beauty of life outshines the darkest moments
Featured Image Credit: Netflix
I cried my eyes out at the end of Cyberpunk Edgerunners. Life is often short and tragedy, in its many forms, is always prepared to storm in and take what little joy we have away from us. This is something CD Projekt and Studio Trigger captured all too well in their anime collaboration based on Cyberpunk 2077.
See the trailer for Cyberpunk Edgerunners here
[Spoilers for the series below]
The story of David Martinez - from private school student to mercenary extraordinaire - is a relatable one, as silly as that may sound. He works hard in the face of a cruel fate, never losing sight of his dream to honour and protect the ones he loves.
Throughout the 10 episodes of the series, David faces all manner of struggle, from being bullied at school to bereavement. There are plenty of reasons for our hero to give into despair, but he doesn't.
David picks himself up and does what it takes to move forward. He changes himself (physically, as well as mentally), he steps into a leadership role, and he prioritises the wellbeing of his beloved, Lucy.
He does what any of us would do in the face of a cruel, capitalist world: whatever he must. He becomes an edgerunner (gun for hire), because he wants to succeed. He augments his body beyond accepted limits because he believes he's special and can handle it. David does what he must because he can, to quote an iconic video game science company.
Recently I've been in the midst of a turbulent time. People who mean the world to me are struggling and I've felt powerless to help them, much like David Martinez at the start of his own story.
Like David, I've been shown with no uncertainty that life can be cruel and ruthlessly punishing. Or, more accurately, the society in which we live can be, at least.
In this difficult time, I'm able to draw some comfort from Cyberpunk Edgerunners, because there is still plenty of beauty in life despite the unhinged cruelty.
Even though David loses people, he is still afforded moments of joy. He is able to look upon the stars, experience a braindance set on the moon, and share a home with the love of his life.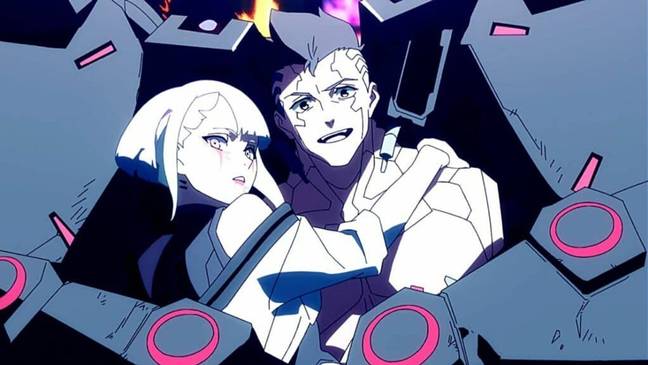 The show reminds us that despite the nastiness we face by simply being alive, there is still much to treasure about our existence, so long as we take our chances when we can.
All of this is to say that, even when we are in the darkest of moments, there is still something worth living for if we are lucky enough to find it, and Cyberpunk Edgerunners conveys that sentiment perfectly.