Before E3 2021 Begins, Let's Enjoy Keanu Reeves Being Breathtaking Again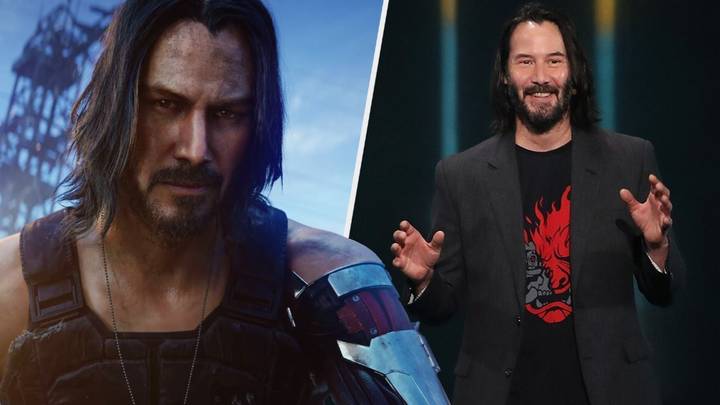 Featured Image Credit: Xbox, CD Projekt
While E3 2015's PlayStation press conference gave us chills, and one of its reveals still does, only one event in recent E3 history has taken our breath away. The clue's in the headline, isn't it. As Swedish Cyberpunk 2077 soundtrackers Refused once screamed on their track 'Circle Pit': it's time for "one more round"...
Which is to say, let's all relax before things get very busy indeed for everything to do with video games, and remind ourselves of the moment, at the Xbox press conference at E3 2019, when a very special guest took to the stage and immediately put us all into a state of disbelieving adoration. Heartsy eyes, at the ready.
Watch the Cyberpunk 2077 section of Xbox's E3 2019 show below - and wait for Hollywood royalty to arrive...
From the top, then. Cyberpunk 2077 publishers CD Projekt made pals with Xbox for E3 2019, positioning the new game - which would eventually come out in December 2020 - at the heart of the everything-green press conference. We get to see the game's protagonist, V (as a male), go through the motions of connecting with Dexter DeShawn, a high-profile Night City fixer, before flashing back to a previous situation, where all hell breaks loose. V is in the back of a cab with an injured Jackie Welles, who isn't all that enthused by how rich the pair now is. More pressing concerns on his slipping-away mind. Then it's back to Dex, some more violence, and, scene.
Only, the real fireworks are yet to come. So, we have a city to burn, do w... oh sh*t, that's Keanu Reeves, in the game. Thomas Anderson, John Wick, Jack Traven, Ted 'Theodore' Logan, whoever that guy in Chain Reaction was - that's this guy, and now he's in a video game? And then, plot twist: "Please welcome... Keanu Reeves."
I wasn't there. I stayed home for E3 2019, covering it remotely, and went to Gamescom instead. So I wasn't in the room, at the Xbox press conference, when Keanu Reeves entered, hearts exploded, and everyone there was told they were breathtaking. Shucks. Just once, I'd like for someone to say something, anything, nice to me. Had it been Keanu Reeves, in the flesh, in 2019? IDK, reader. I'd have had a moment.
Will we see anything like this during E3 2021? Unlikely. Will we ever see E3 be as big of an industry event as it has been, once the pandemic-enforced online approach has passed? Again, unlikely. But we'll always have this. Cherish this. In a cutthroat business of bottom lines and sales targets, devastating burnout and health-risking crunch, score-related bonuses and near-endless abuse directed at games makers, marketeers and media alike, it's nice to hold onto something beautiful. Because he is, still, quite, quite beautiful. Find a complete guide to what's on show at E3 2021, here.